Introducing the New Era of Elegance, Unveiling Our Exquisite Stock Tie Collection!
Postage to the UK is now FREE on all orders!!
You have just entered your one stop shop for beautifully hand made unique stock ties, and all your dressage accessories. 
View my NEW design of pre tied, designed and made by myself, and only available at CJ's Equestrian! A pre tied made to look like a self tied when worn.  A convenient and quick way of wearing a stock without compromising on the traditional look,  and my new shape of self-tie stock!  Also check out my 'Bespoke' pre tied range, a stock that doesn't need a stock pin!  These stocks will surely make you stand out from the crowd!
You will find a large selection of both ready tied and self tie stocks made from a variety of quality materials and colours.  There will also be a range of LIMITED EDITION stocks, once they're gone, they're gone!  New stocks being added all the time, we have something for everyone!
Quality at it's finest!
I can also make stocks to requests,  Please contact me through the contact page.
And we post WORLDWIDE!
You will also find a large selection of stock pins to suit all.
Horse and rider accessories, for all those little things to make a picture perfect combination.
Cards and gifts for that someone special.
And much more, go ahead and have a browse.
I hope you enjoy your visit at CJ's Equestrian!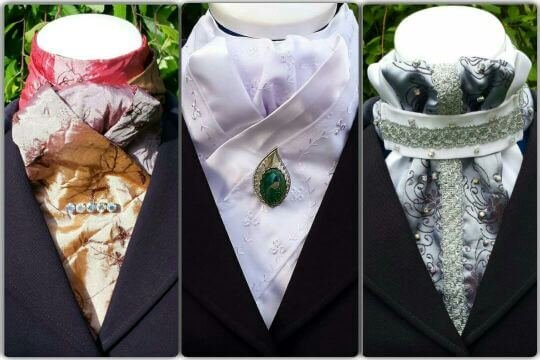 Payments accepted through Paypal or Stripe.

What our customers are saying
"Love, love my new unique stocks and pin! Absolutely perfect in quality, size, colour, material and craftsmanship. I'm so glad I bought 4 different stocks. Thank you for the quick delivery and bonus matching hair scrunches. Really pleased with my purchase" Michelle
"I've had mine for a year now, it's still in fabulous condition and I love it"
"Well made and elegant looking. Shipping was faster than expected."