RA01. Black or Navy Bow Hair Clip with a Hair Net
Black or Navy bow hair clip with a lace skirt and net.
£4.75
Stunning plated antique gold hair clip with a horse head and shoe.
£6.00
RA03. Triple Horse Head Hair-band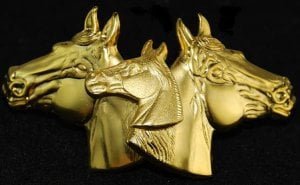 Lovely triple horse head ponytail holder, polished and 14kt gold plated.
£8.00